US Oregon Trail Half Dollar 1926 to 1939
The Oregon Trail is a historic wagon route that runs for over two thousand miles, all the way from Independence, Missouri in the east to Oregon City, Oregon in the west. In the 1830s and 1840s it was the greatest east-west 'highway' of the United States.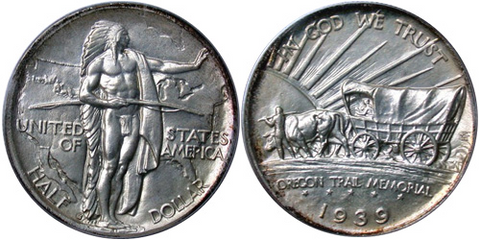 This half-dollar(copy) was struck not only to commemorate the trail, but also those people who traveled on it. It was a dangerous journey which took weeks and weeks, and often many people would die of starvation and diseases before arriving to their intended destination.
The design has been widely praised, and better looking coins are prized by collectors.