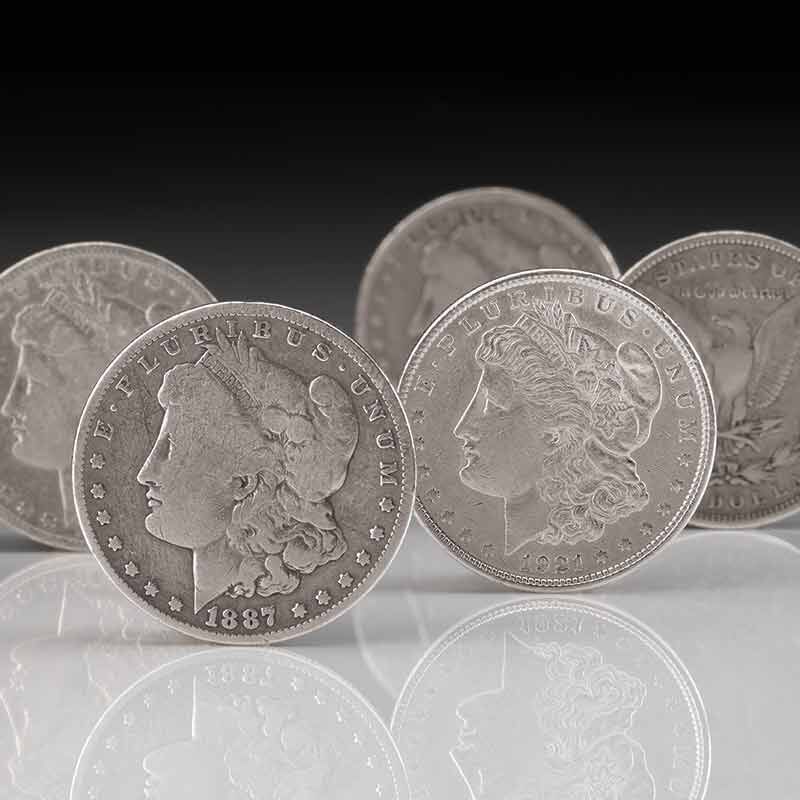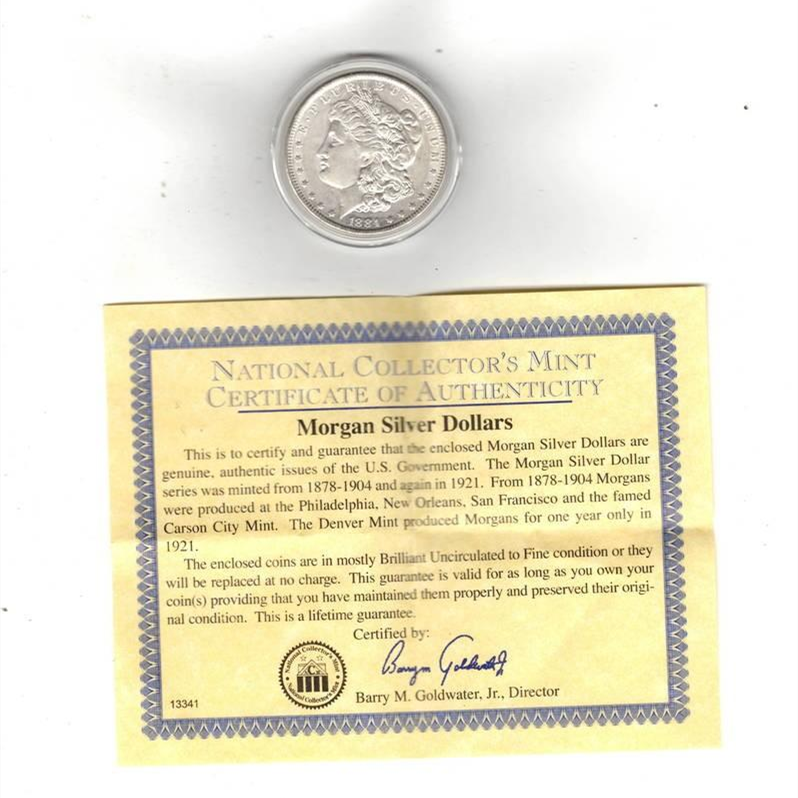 A truly complete set of the only silver coin design in U.S. history to be struck at five different U.S. mints!
When the Morgan Silver Dollar was first minted in 1878, it became a symbol of the Wild West and America's new place at the forefront of the world economy. Due to their high silver content, historical significance, mass hoarding and grand-scale silver meltdowns in the early 20th century, these precious coins are harder to find with every passing day and have become some of the most sought-after treasures in American coinage history!
Morgan Silver Dollars are an excellent way to own a piece of history, while concurrently investing in the physical precious metal silver.  Morgan Silver Dollars are composed of 90% silver and 10% copper.  They weigh 26.73 grams.  This equates to approximately .7734 Troy ounces of silver and approximately .1 ounce of copper per coin.
---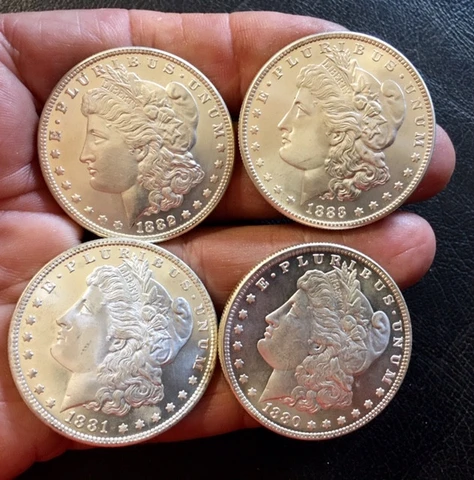 The Morgan Silver Dollar is one of the most significant, historic American coins. Introduced in 1878, the Morgan Silver Dollar represented a return to silver dollar coining in the US after a brief hiatus. The design for the coin was created by a British man named George T. Morgan who had come to the US from the Royal Mint in Britain on a trial basis. Right now, (Uncirculated collectible coins)Morgan Silver Dollar Coins are available to purchase online.
Coin Highlights:
Arrives inside of a protective plastic slab courtesy of the NGC or PCGS!
Struck from 1878 to 1904 and 1921!
Contains .77344 Troy oz of actual silver content.
(Uncirculated collectible coins)
Bears a face value of $1 (USD) backed by the federal government.
Issued a Grade of Mint State 66 by the Professional Coin Grading Service or Numismatic Guaranty Corporation.
The obverse features the effigy of Liberty.
Reverse includes the American bald eagle.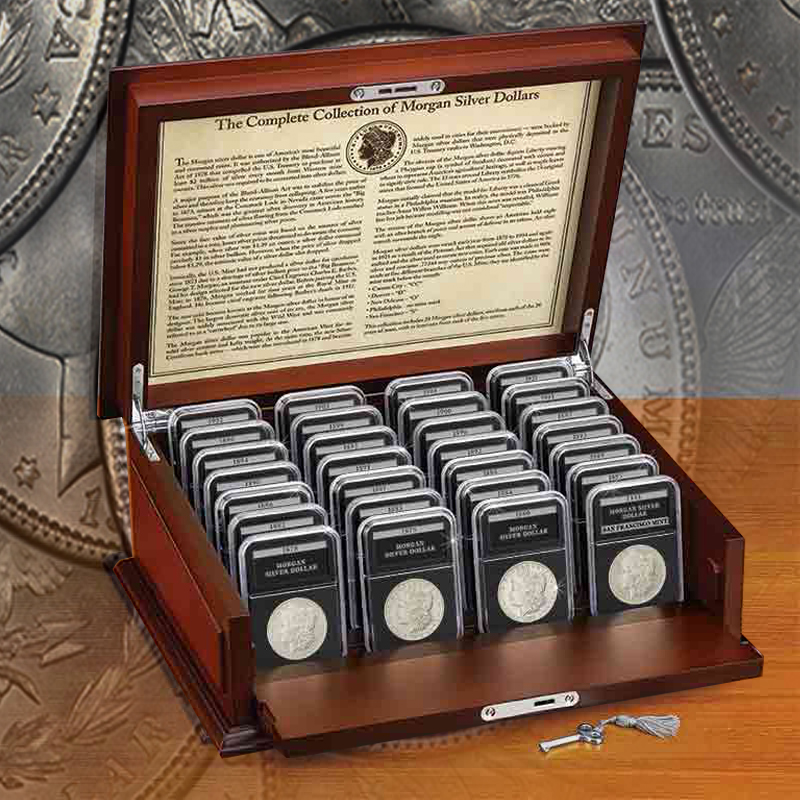 Each of the Morgan Silver Dollar Coins offered by us in this product listing is available to you in Mint State 66 condition from either the PCGS or NGC. Coins in Mint State 66 condition are five grades below the perfect grade of 70 on the Sheldon numeric scale. A coin with an MS66 certification has minimal, but apparent, detracting marks or hairlines.
The Morgan Silver Dollar debuted in 1878 with a design from George T. Morgan. At the time of its introduction, the Morgan Silver Dollar represented a return to silver dollar coining in the United States after it was halted in 1873. The Bland-Allison Act of 1873 brought an end to the free coining of silver in the US at the United States Mint, and a subsequent stop to silver dollars altogether.
On the obverse of the Morgan Silver Dollar is the left-profile portrait of Liberty. This design of Liberty that was created by Morgan is said to reflect the figure of Anna Willess Williams, who sat through numerous sessions with Morgan to complete the portrait of Liberty. Included on this face is the year of issue and the word "Liberty."
The reverse of all Morgan Silver Dollar coins includes a design of the bald eagle also created by Morgan. The eagle is similar to the heraldic eagle, but lacks the shield commonly used in that design. Included in this design of the eagle is a bird with wings spread wide as it clutches the arrows of war and the olive branch of peace.
In this product listing, we guarantee you a Mint State 66 condition Morgan Silver Dollar.
---


Your complete collection of Morgan Silver Dollars will include every year of issue (from 1878 through 1904 and then for one last time in 1921), with at least one coin from each of the five U.S. mints that produced them.

The coins in this complete collection are almost all now over 100 years old, and together weigh in at nearly two troy pounds of precious silver!

Each Morgan Silver Dollar is presented in circulated condition with most major design details visible and is protected in an archival crystal-clear case that allows for easy and safe viewing of both sides.
Year: 1878 to 1921
Grade: Choice BU
Strike Type: Business
Denomination: $1.00
Mint Location: "S" – San Francisco
Metal Content: 0.7734 troy oz
Purity: .900
Manufacturer: US Mint
Thickness: 3.1 mm
Diameter: 38.1 mm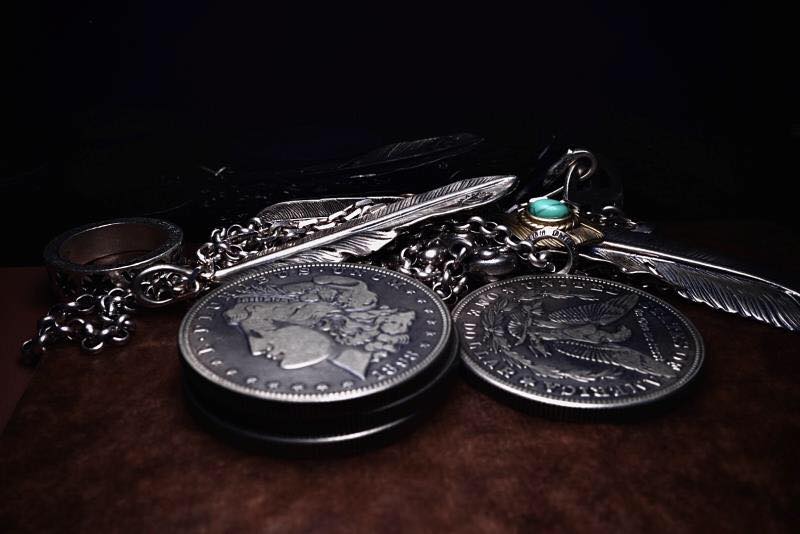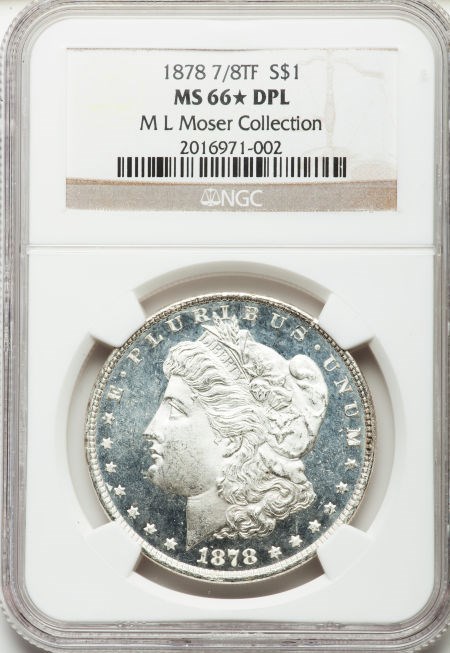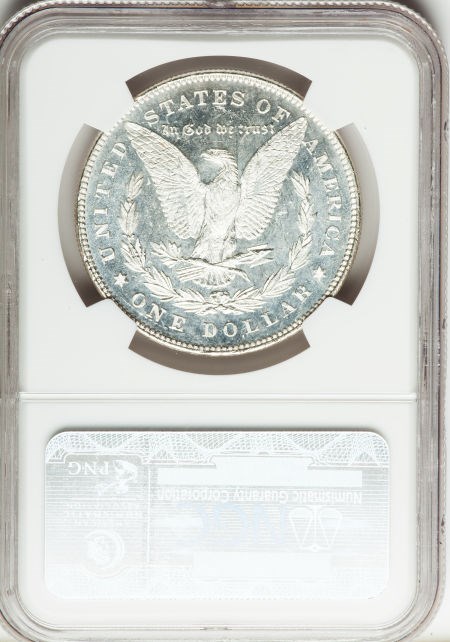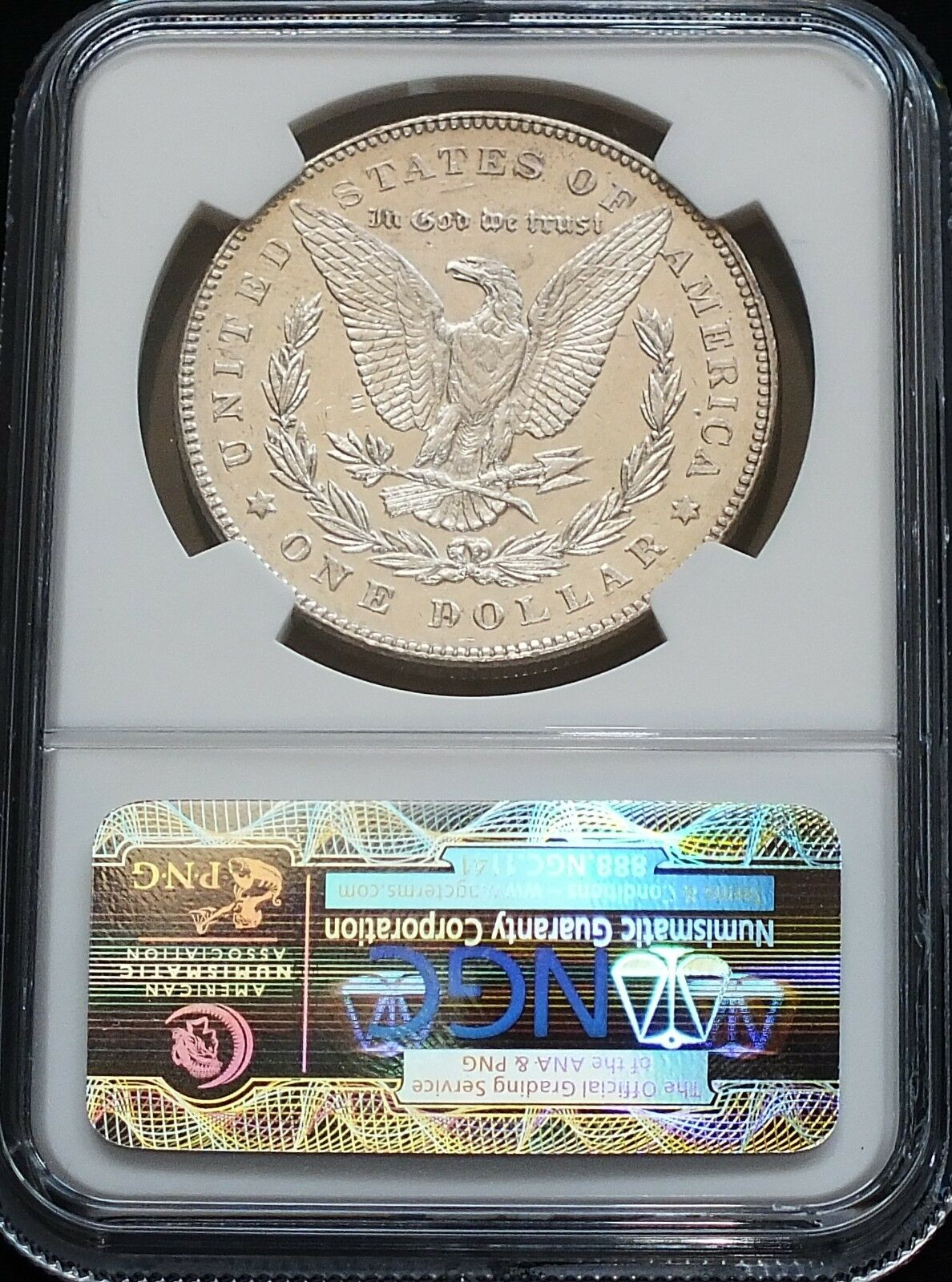 ---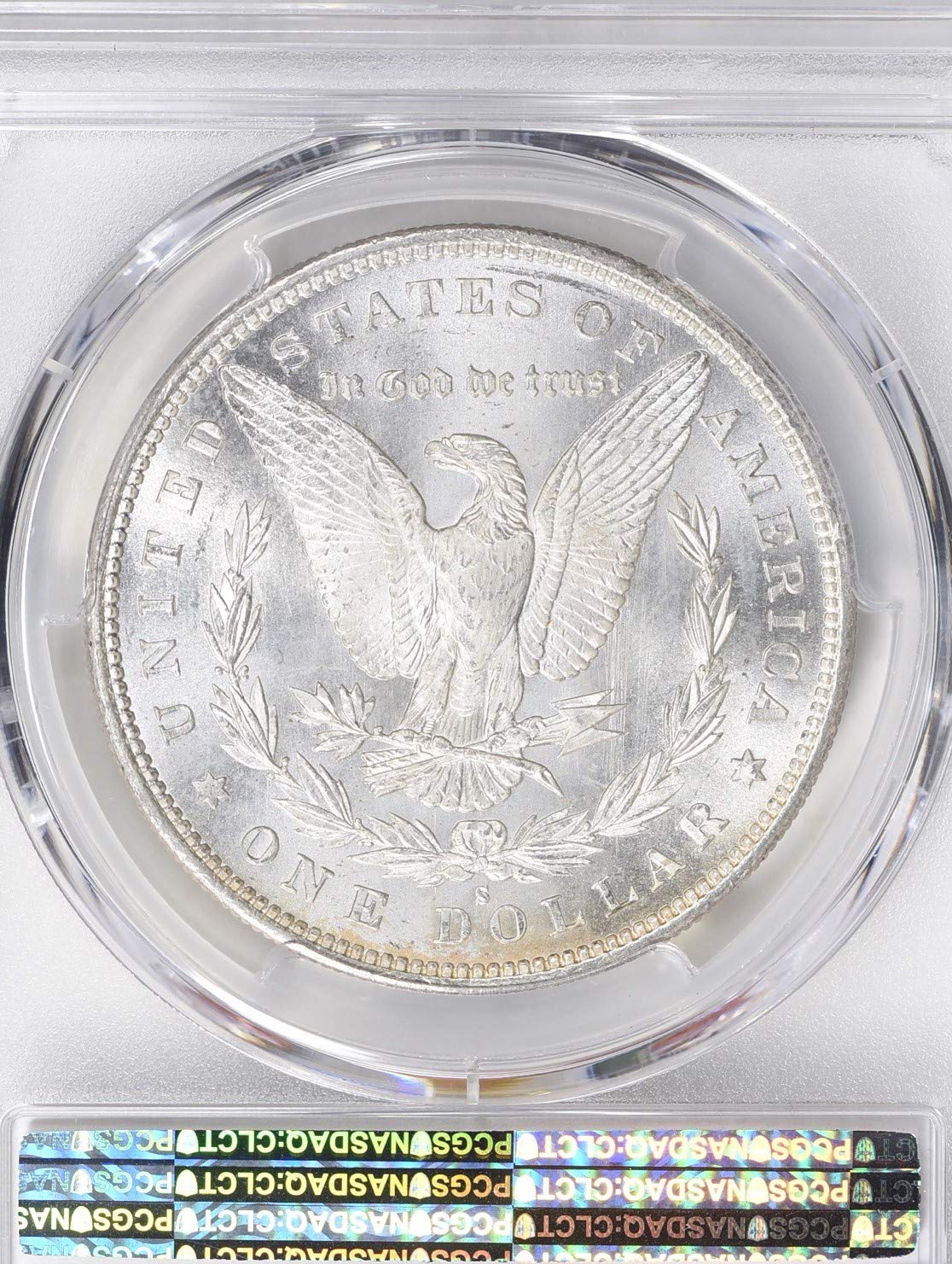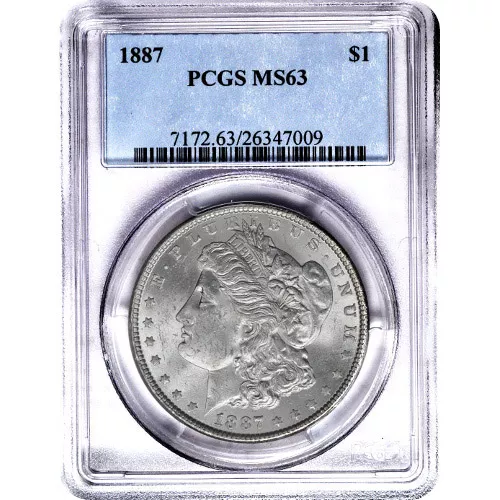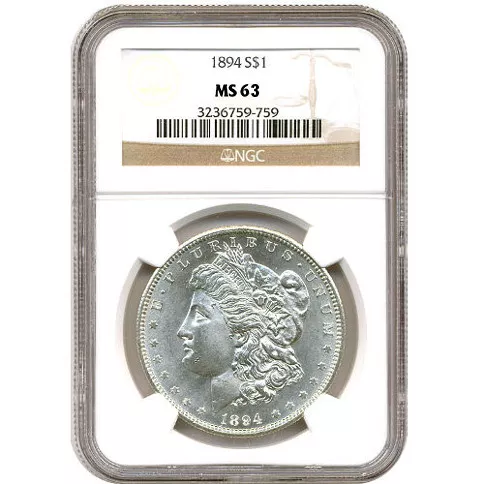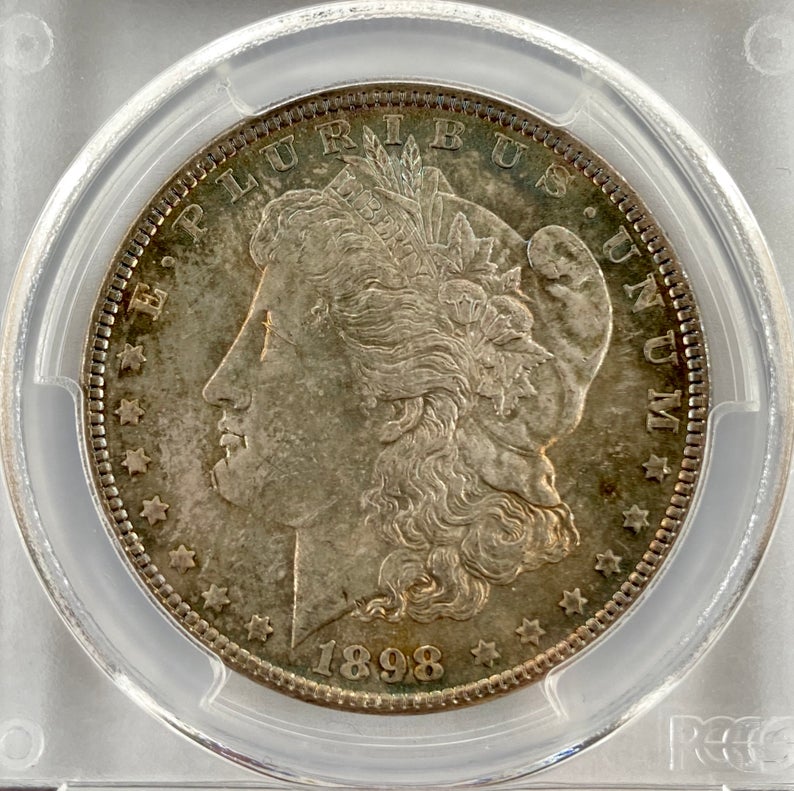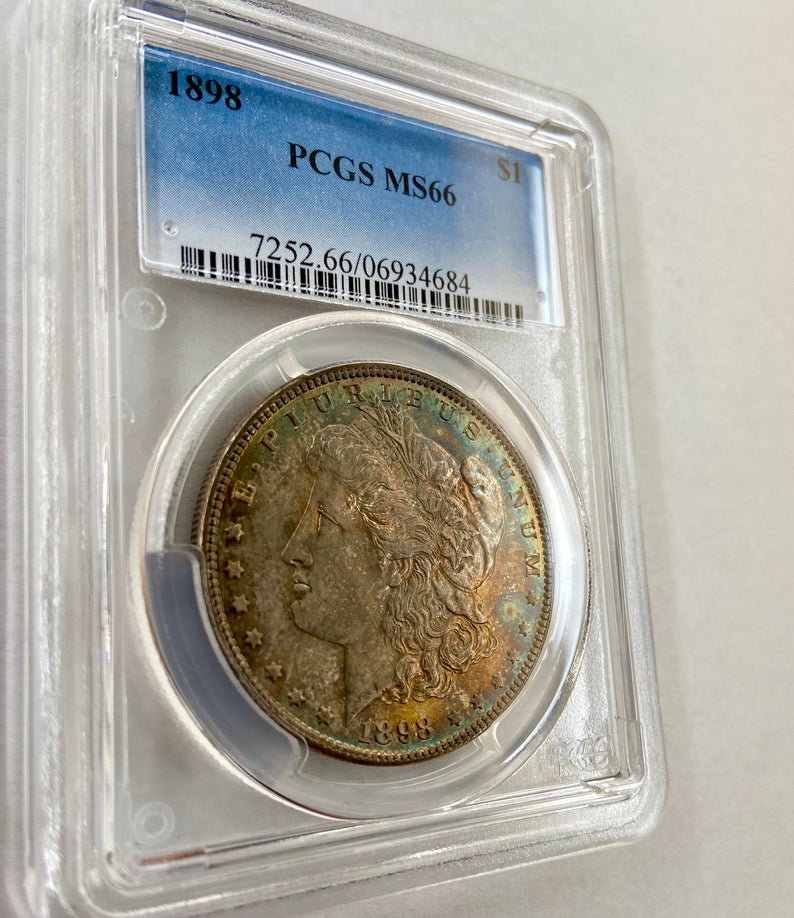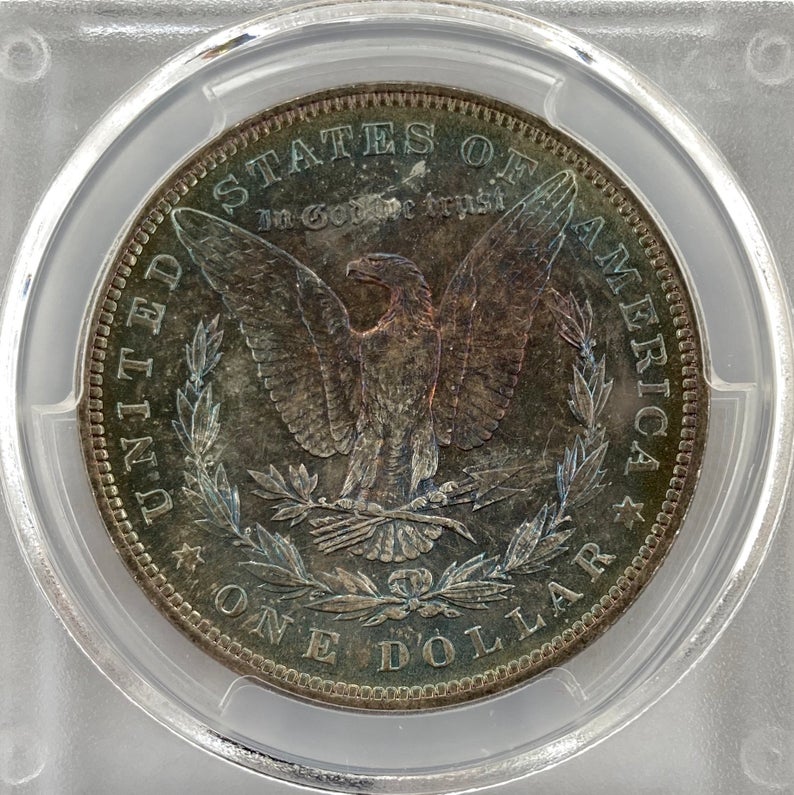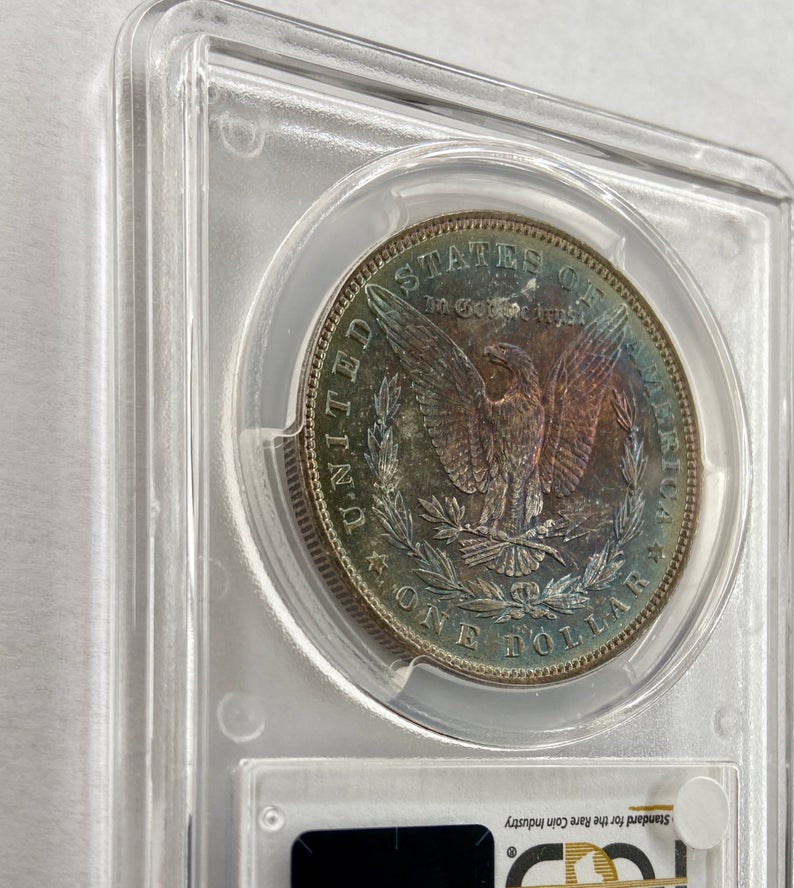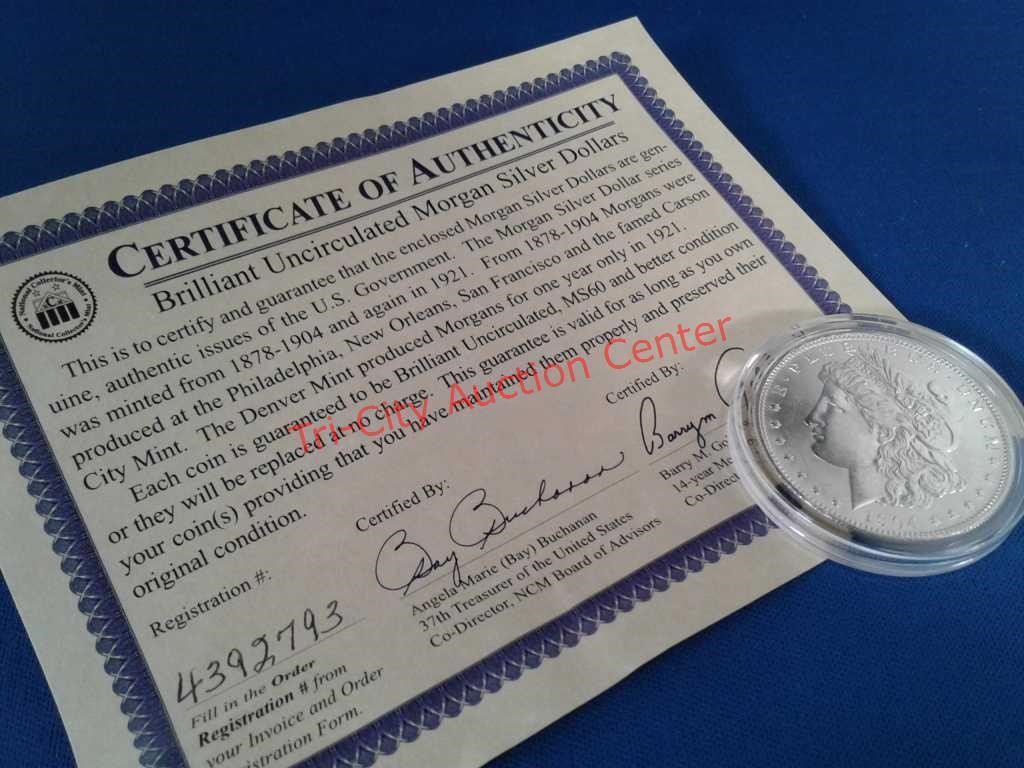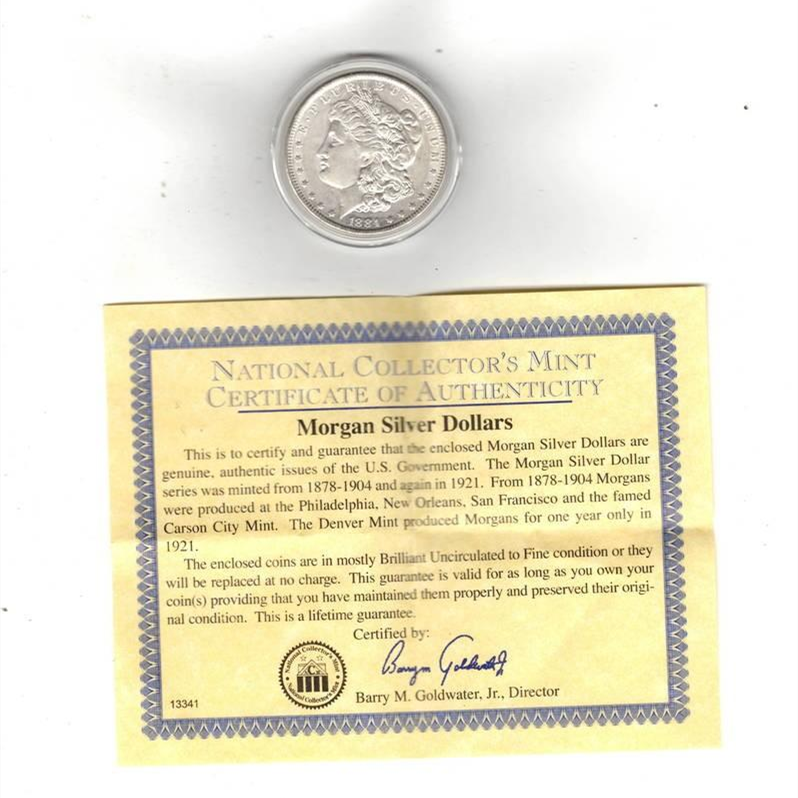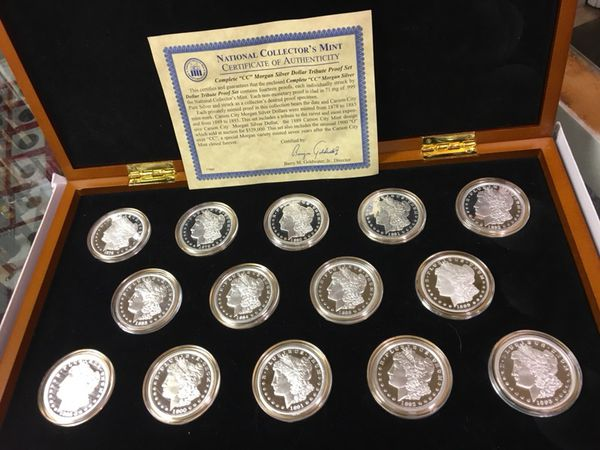 Morgan Dollars
What is a Morgan Silver Dollar?

Introduction
Silver, Morgan dollars, and the Wild West! These words work magic on collectors and anyone who has ever held these big, shiny coins in their hands. Bold, beautiful Morgan silver dollars tell the adventurous tales of the mountain men, pioneers and prospectors who opened up the American West, and the families who made the western frontier their home. Uncirculated collectible coins.
These big, heavy 90% silver coins were struck using ore gleaned from rich western mines – like the Comstock Lode, which yielded $36 million annually at its peak! Large, handsome, and weighing over 3/4 of an ounce, it's easy to see why these historic silver dollars have earned the nickname "King of America's Coins"! The magnificent Morgan dollar was struck for 27 years, from 1878 through 1904, and one final time in 1921.
| | |
| --- | --- |
| Dates | 1878-1904, 1921 |
| Composition | .900 fine silver, .100 copper |
| Weight | 26.73 grams |
| Diameter | 38.1 mm |
| Edge | Reeded |
| Mints | Philadelphia (no mint mark), New Orleans (O), Denver (D), San Francisco (S) & Carson City (CC) |

Morgan silver dollars were first minted in 1878, during the heyday of the Wild West.
Large, heavy, handsome, historic and struck in .900 fine silver, the legendary Morgan silver dollar has been appropriately nicknamed the "King of America's Coins"! Morgan silver dollars are prized mementos of 19th-century America, and, as official issues of the United States Treasury, they are genuine pieces of history. These coins were minted when the nation was still young and life was indeed a daily adventure… a time of gunslingers, cattle barons, riverboat gamblers, railroad tycoons and dancehall queens. And a time when money meant large, hefty silver dollars, not credit cards and checkbooks!
Morgan dollars were named after their designer, George T. Morgan, whose beautiful Liberty Head design was modeled after schoolteacher Anna Williams. They were struck at five U.S. Mints from 1878 to 1921, and circulated mainly in the West. The cowboys of the Old West dubbed the coins "cartwheels" because of their hefty size and weight.
---
INVENTORY SOURCED FROM ALL OVER THE USA!
Our team travels across the country every year purchasing some of the largest coin estates & collections. As a result, this allows us to offer some of the most unique and discounted coins offering online!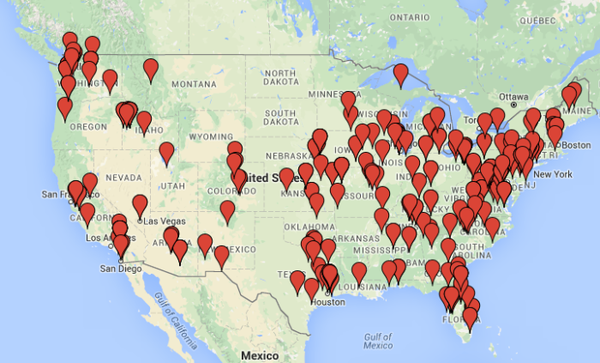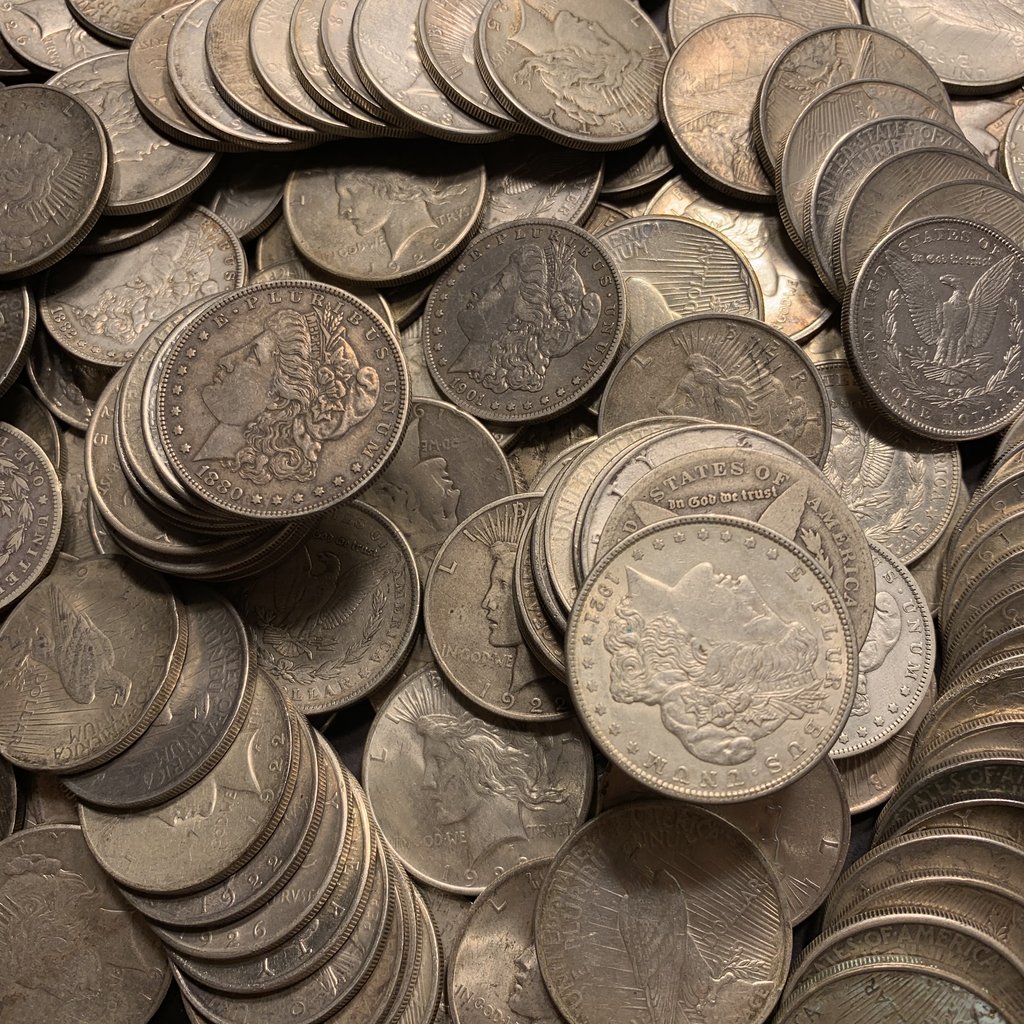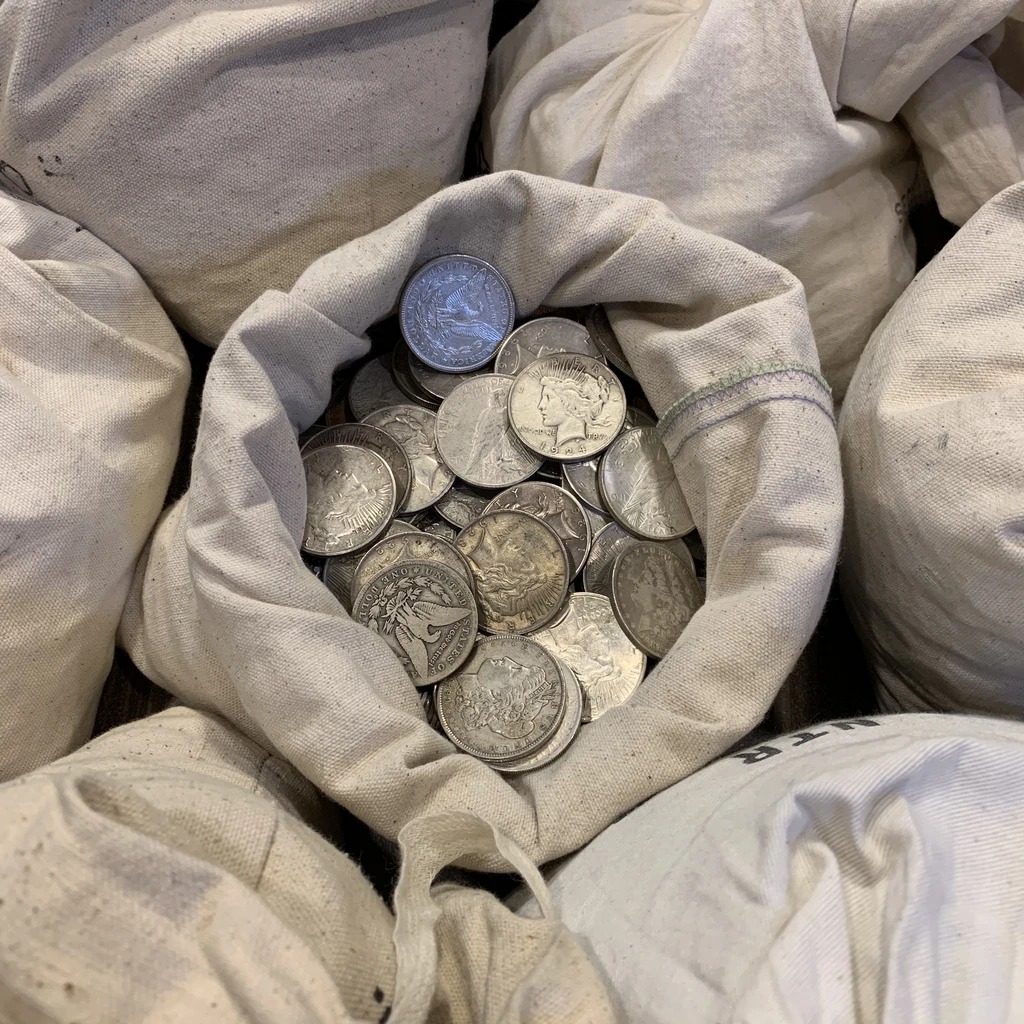 You will receive your order in 7-12 business days.
HEALTH SAFETY
As a result of COVID-19, we will sterilize the products and packages, you can rest assured to purchase orders.
PAYMENT CONFIRMATION
A confirmation email will be sent to you once the order is authorized and verified.
PROCESSING
It normally takes 1-2 business days to process your order.(Uncirculated collectible coins) Please note that holidays & weekends are not included.
It takes longer for us to process pre-ordered items,
please refer to our preorder page for more detailed information.
If items are prepared in 24 hours in your order, then we can ship it in one day.
SHIPPING
Shipment takes approximately 7 to 21 business days to reach destination countries (world-wide).
Once your order is shipped out, an email notification with the tracking number will be sent to you.
Please note: Total Delivery Time = Processing Time + Shipping Time
Your order will be shipped by the following business day (excluding holidays) via FedEx or UPS. (Delivery time 7–15 business days within the contiguous U.S., 7–15 business days to Alaska and Hawaii).
If your order is placed on Saturday or Sunday, it will be shipped by the following Monday.
Depending on your location, we will ship from different locations. On rare occasions, we might ship orders from a different location based on inventory, public holidays, or other unforeseen events.
Domestic orders will be dispatched from our main warehouse located in San Francisco directly to you.
DELIVERY
If you want to track your order, please click Track Order for more information.
CONTACT US
For more information about our privacy practices, if you have questions, or if you would like to make a complaint, please contact us by e‑mail at [email protected] Antique store
If you are emailing about your order, please make sure to include the order number or the email address used at checkout in your message. Thank you!